So, we frequently see men running in tights, but how often do we see men running in skirts? Not often enough, I say.
Mark, the running blogfather, has agreed to do just that to support a fun and creative small business called Running Skirts and to raise money for charity. And – as an extra special touch – if 100 RBFers/bloggers donate to a charity of their choice – he will also wear the matching bra. I will double my donations if Mark wears the bra. Just drop Mark a line and let him know that you made a donation.
I'm making a donation to this animal shelter through Rowdy Dines (Get cute merchandise and donate at the same time – shameless plug for Rowdy – oh, and they come in manly sizes too). I am also making a donation to Livestrong (for Bolder).
I've ordered a skirt as well and will post my review of the skirt and include a few pictures as soon as skirt arrives – maybe even a video if I can figure that feature out on my new camera.
I'll let you read the remaining details on Mark's blog, but here are a few of the answers* to questions that the "girls" grilled him with:
Question: Why are you doing this?
Mark's Answer: My friend Jamie has recently invented the mirrored race chip so I want to promote more women wearing running skirts (guys – you can thank me with a donation).

Question: Will you be shaving your legs?
Mark's Answer: Yes, I shave my legs on Saturdays, my underarms onTuesdays and I have my bikini wax after my long runs on Sundays – it helps me relax.
Question: What kind of underwear will you be wearing? Aren¹t you afraid of panty lines?
Mark's Answer: None of your beezwax but you are welcome to try and figure it out from the video (a girl's gotta have her secrets). Oh, and yes I obsess about panty lines – that is why I always wear a thong to work.
Question: What will you look like in your outfit?
Mark's Answer: Pretty much exactly like this only pinker and hopefully with larger boobs, I plan on breast augmentation if enough money is raised. (thanks to Dawn for the graphic)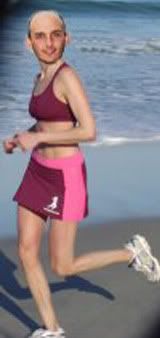 *Answers may be slightly altered to help the needy. I have also agreed to be Mark's personal love slave if he legally changes his name to Marcia.