This post is taking longer to compose than I thought it would, mostly because the skirt challenge has lead to a lot of interesting conversation, some of which has me biting my tongue.
This Washington Post article generated a lot of the discussion. And in my opinion, regardless of how "silly" some people think wearing a hijab or baggy pants while running appears, it's hard to deny that this is a giant step towards equality for these women. If anything, the fact that these women run with extra weight on their head, where most of us would shed the extra weight and heat, is impressive. And when you consider that they wear their hijab with pride, as a symbol of their religion, rather than as a symbol of the political regime that subjected them to years of inequality, they become more than just runners. They are heroes
Ok, so enough of that – let's get to the fun stuff. I took the skirt for a 4 mile spin this morning – I ran it, I sprinted it, I jumped it and stretched it.
Fashion wise, my fear was that it would be unflattering and that I would struggle with feeling self-conscious. I have to admit that I felt weird for a bit at first, but it didn't take long to warm up to the skirt. The only negative is a slight pantyline. Overall, I think it is really cute and felt comfortable. The color selection is great and the twin logo is adorable.

Thigh bunching – I have to say not having fabric between my legs was very comfortable. I love my Nike tempo shorts, but since I have larger thighs – they tend to bunch in the crotch. No thigh bunching wins big points in my book.
Waistband – The elastic in my shorts tends to chaff my waist during my long runs, so the non-elastic waistband was great and very comfortable. I don't have the supermodel midriff as the twins do, so it did tend to roll down a bit when I bent over, but not much. It also sits lower on the hips than most shorts and I found that more comfortable and flattering.
Skirtness – build in undies and I had full coverage – coverage was important for me. Good for tying shoes. It didn't flip up in the back while running and stayed in place.
Fabric – breathable, lightweight, dries quickly, stretchy and jumpable. Loved it.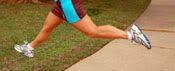 Side Pockets – I snagged the turquoise part of the fabric a little while i was leaning against a tree, but it is not very noticeable. Two pockets – one for Gu and one for Nano – does it get any better?
There are a few things I'd fix, but overall – I loved it and would recommend the skirts for function and fashion. The owners and founders of Running Skirts are great and donate a portion of their sales to charity. You just can't beat that. Besides, Michael gives the skirt two thumbs up!
The girls at Running Skirts have also sent me a strappy bra top which I will review. But there will be NO pictures of the bra.
Check out the skirt pics in action HERE.
(I make no claim to have good form – and I have no clue what I do with my tongue while I run?)