Lets see if 45 minutes on the phone with apple has repaired my soon-to-be non-precious. Intel + Apple = Frustrated Susan. Why ruin a good thing?
YAY! I had my first RBF meet up on Sunday! It was awesome and so much fun. Leah and Jason from Marathon Running were in Dallas for a Physicists conference this weekend*. I met them at their hotel to take them to White Rock Lake for a run – thankfully the drive was completely uneventful except for the 400 u-turns it took me to actually find the giant pool of water I passed several times!
I learned so much about Leah and Jason during our 9.13 mile run around the lake – we had a blast and talked non-stop. I was worried about fatigue since I had already run 4 miles earlier that day to test drive my new running skirt. I was having so much fun and felt even smarter after learning about their subb60 particle lifespan that I didn't even notice my tiredness. The run was great and Leah and Jason are awesome. They even handled the heat like pros. (I hope that is the right name of the particle?) We had so much fun talking about all of you! You know who you are.
The drive home was almost equally uneventful – except witnessing a man driving over a mattress with his car and pulling it for a while with sparks flying everywhere – while not spilling a drop of his ice cream cone . . . please note that is completely unrelated to my inability to follow direction or drive.
Are all runners this nice? The RBF rocks and I can't wait for my next meetup!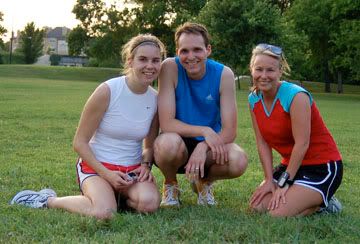 *Once again proving my theory that being super super smart – makes you super super nice!