I am still so excited about my trail run yesterday. I went out and bought some trail shoes today . . . I'm just sad they will get dirty. I like clean shoes.
Shoes remind me of retirement. It's extremely disturbing that I'm sad my heels are not being worn on a regular basis. Carlos Santana* and Charles David would be ashamed. An update for those of you that asked – I retired on my own – for a variety of reasons I won't discuss here – just know that a whole lot of executive bastards lead me to my decision. I'm not sure exactly what the future has in store for me, I have a few plans I'll discuss at another time. Just know I am thrilled to spend the summer with Kenza.
All last week Nature Girl watched wrens build a little nest in the flower pot on her porch . . . now there are eggs. It's extremely disturbing that I'm excited about the eggs.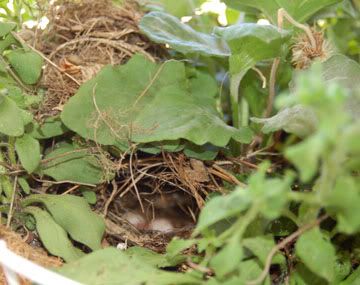 *I cannot explain the brilliance behind this man designing shoes.