Wow. I finished. It's over. I reckon it's about time I post a report. I'll try not to make this too long, but I can't help but post the fun pictures – Most of whom I owe credit to my shutter-happy sister Amy. If it's underlined – click it for a picture.
The RBF meet-up was fun, Amy and I – due to our genetic perpetually early disorder – were the first ones to arrive. We were greeted by a smiling Anne and soon we were talking with Laura and her beautiful baby and husband, and the other RBF folks drifted in. Dianna came in later to let us know that she had been sick and wouldn't be running – although she still looks great in this picture with April Anne.
April Anne and her friends were funny and neat, and they clued Amy & I into a great Thai restaurant that we dined at that evening. A.maria was a lot of fun, that's Jeff in the background – he looks like he's taking pictures, but he really just wants us to see his "big lens". Now I have lens envy, must be a Freudian thing.
I slept relatively well that night, only getting up six or seven times to pee. That should have been my clue to STOP drinking water. I arrived at the course early and meet up with Nic and A.maria, then my friend Marta caught up with us and we all enjoyed some nervous chatter before heading into the corrals.
The start was great, the weather perfect and I was feeling wonderful. I wanted to do the usual and start out too fast, but I held back and maintained an even pace. I also had to pee. Badly. I decided that around mile 8 that I *must* pee and this continued on and off for a long time – a lot of stops, a lot of time. This is when I began to wonder if I might have over-hydrated.
At mile 13 I was really happy to see Amy and get some nourishment I had stashed with her – I was feeling a little better for the next three miles although I started to get a little nauseous if I would speedup.
At mile 18 the greatest thing in the world happened – I hear a marathon angel calling my name –its Anne. I was so, so, so happy to see Anne. She was having some bladder issues (opposite of mine) as well and was talking to Smsmh on the sidelines about taking her to the finish. We decided to stick it out together. I felt a little better with her by my side and we talked and she pulled me through miles 21 through the finish when I was feeling VERY nauseous. At mile 24 Amy and Troy passed us and they were both were all smiles and looking great.
Anne had me piggyback as we turned mile 25.5 when we saw Amy and Anne's husband standing right next to each other – not even knowing each other – out of 50,000 spectators what are the odds of that! Anne kissed her husband then my sister snapped these fun pictures of the two of us coming in to the finish.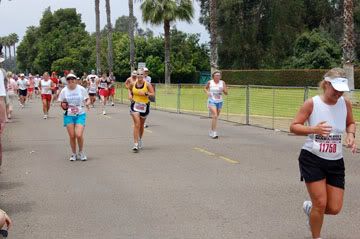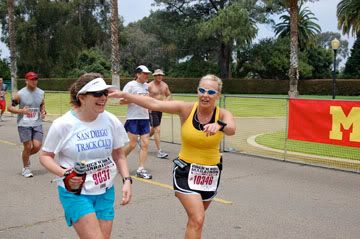 I have to say this wasn't my best race. The course was tough and I can't pinpoint exactly why. A few hills, some humidity and a lot of running on highways. I also think the course was a little long. I'm not the only one – all the other Garminas and Garmanos I talked too were EXACTLY the same half mile distance off as my Garmina. I don't know – maybe it's not, but it sure as hell seemed like it. I was also a little disappointed in the scenery. I was hoping for more beaches and parks and less highway.
I finished the marathon at 5:06:27. You can view my splits here. Not a PR, which is okay and offset with the fact that I got to meet the RBF people and I had a great time. I meet up with Karen and Jeff and Marta at the finish. We snapped a few more pics and we headed off to the hotel for some recovery.
So, what's the best way to recover from a marathon? Just like Krusty the Clown would recover. In Tijuana. With friends and tequilla and cerveza.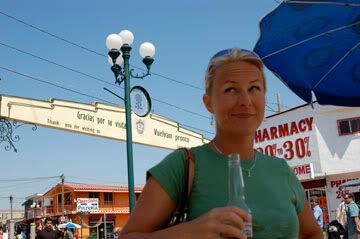 Just be careful or you'll discover that your sister married Jesus, witness a drug bust and end up with stories to tell the grandkids called "Milka and the Magic Brush." All in two hours.
I'm going to put together a slide show later this week. Now I'm Home. Feeling great. Ready to Rest.