I spent a good portion of my morning in stirrups, staring at the ceiling and being felt up by instruments. I think "we'll have the results tomorrow" is the medical equivalent of "wham, bam, thank you ma'am." My uterus is a pain.
Occasionally, very rarely, a fibroid will hang from a long stalk attached to the outside of the uterus. This is called a pedunculated fibroid, and it may twist and cause the blood vessels feeding the tumor to kink. My friend Kate has provided the artwork below of my "Kinky Fibroid", as she's named him.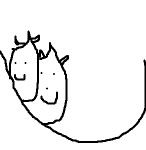 That's the type of fibroid I have, as well as its two buddies snuggly embedded in my uterine wall. In 90% of women fibroids are located inside the uterus and a "snip, snip" surgery will fix that. Naturally, not in my case. My uterus doesn't seem to understand that I cannot breed if it's living in a jar on the doctor's shelf.
My running shoes might as well be on the doctor's shelf since they are so rarely in use. I thought I was ready to run again. I need a plan. I need a drill-sergeant buddy. I need it not to be 114 degrees. I need to stop being lazy.
I did manage to do some yoga today, albeit reluctantly. I find myself doing yoga only when the guilt from not running starts eating me up. However, I pulled my yoga boyfriend out of the closet and forced myself to practice with him. Although I must say, Erich's been enjoying a few too many tofu burgers too, if you get my drift. It's okay Erich. I understand, I really, really do. I still love you.
It's hard to believe that before I was a runner, I was a yoga snob. Running gives me so much more of a thrill. I know I'm missing the point of yoga, but if yoga were competitive, I might do it more often.
Of course, my two hours in the stirrups this morning does provide me with a competitive edge. Nothing like getting flexible with the gynecologist.