Lately, I've seen many references to the Pfitz plan while reading about blogs. I got the Advanced Marathoning book to see what all the fuss was about and my first reaction was "Good God. What the hell is wrong is with these people?" My next reaction was "Well they run marathons three times as fast as I do. Maybe there is something to this." Okay, but seriously folks – 70 + miles per week. The most I've ever done is 40 and that was at the peak of monster month while marathon training – and that nearly killed me. I'm considering giving this Pfitz plan a try, which may take thirty years or so of building base mileage.
What makes an "Advanced Marathoner" advanced? Number of marathons? Speed? Lack of back fat? Genetics? What about the junk miles I keep reading about? Should I even worry about those?
Other than pfitzing about things, this weekend was uneventful in Runner Susan World. Saturday was an easy four-mile, Sunday was an easy five-mile run. Monday was a recovery day and today was bleacher day again. I doubled last Thursday's bleacher session and ran a half of a mile today. I was hoping to run another half mile on the track but my legs were deliciously spent by the time I was finished. I rotated push-ups, triceps dips and abs at the end of each row ending up with 100 of each. I'm liking this intense calorie-burning workout! It better show me the money this week. Or Tanita suffers.
I found a new feature on my food log – it shows my weekly caloric breakdown. My undying love of sugar. And fat. And cake. But not meat. And plenty of cake. And not enough running.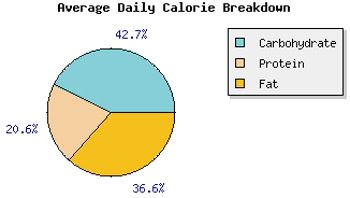 I've been following Julie Berg's food log for a while and my goal it to eventually eat like her. I figure if we can wear the same clothes, we can eat the same food. Except her clothes are a lot smaller. And so are her food portions. Which makes complete sense to me.