Tuesday was a great morning to run. Marathena, Massoman and I each did our individual workouts on the track. Mine was a 20 minute tempo with a one-mile warm up and cool down. Tempo pace was 9:42 per mile. But the best part of the run was when Marathen and I decided to run the Houston Marathon in January! I'm not sure if I should be excited or panicked, so we'll choose excited and I'll add that to my list of races.
Wednesday was an easy 3-mile with Massman and BW. My Nano wasn't working so I was a little more chatty than usual. I also attended a real yoga class at my friend Sherry's studio. It was much needed. I'm sure Yoga Boyfriend was more than happy to stay in his box, especially after his last tongue-lashing after the prior week's yoga abuse. After class Sherry and I went to a lovely dinner after caught up on way too many years of not keeping in touch. It was nice. If you live in the DFW area and need a good yoga session, check out Sherry's yoga studio, InnerWisdom Yoga. Classes are very private with only a maximum of five students per session. You won't regret it – it's so much more than your typical yoga class.
Yesterday was an extremely bad day of cramps. This pleasure reminded me I needed to follow up with the bastard insurance company so I can schedule my uterine gutting. If my attitude doesn't adjust a little Michael is going to gut me himself.
Today I have a 50-minute run scheduled – the first 3 miles I'll run with Cindy and Deena. I'm really looking forward to it. Sunday I have an easy eight-mile run scheduled. Until then, enjoy this picture of my boys. Aren't they handsome?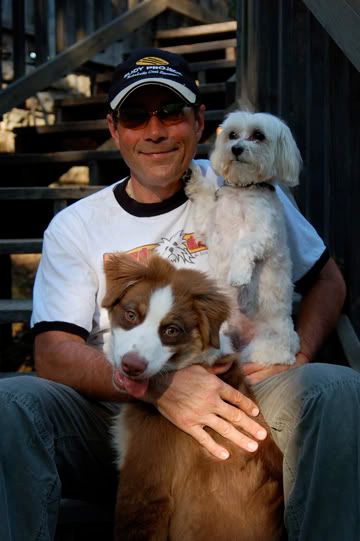 __________________
UPDATE: Finished the the 3-mile run with Cindy and Deena. These girls are too funny! Walked 3 Donkey miles when I got home.
And Rikki is loved, she's just psychotic – see, we captured a prozac moment.