Today was not a record-breaking day or a day with perfect race conditions – high humidity, 86 degrees and strong winds. But despite the moderate pace, 11:06 per mile, and another support-hose lady sighting, I had a great time. The arboretum was gorgeous, the burritos were abundant, and I got to spend the morning my friend Cindy.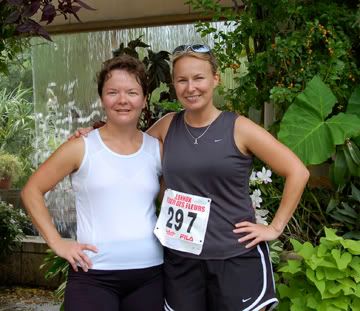 Houston marathon training begins on Monday. There is no question that I have a lot of work ahead of me. I had hoped I would be in a better place than I am right now, both physically and emotionally. I wonder if I am up for the uncountable challenges that are ahead of me these next four months. Honestly, I'm not sure. I know I need to deterimine where my dedication is and decide if I'm just in this to run a marathon, or if I'm in it to do what it takes to get me closer to my goal.
Oh, and for the record, I beat support-hose lady!