This will be brief because I'm heading over to my mother-in-laws soon and I need to start drinking heavily.
Here are my splits, and as you can see I just got slower and slower.
Mile 1 – 9:59
Mile 2 – 9:31
Mile 3 – 10:18 – blister starts here
Mile 4 – 10:42 – I smell bacon
Mile 5 – 10:37 – GU early because I'm hungry
Mile 6 – 10:56
Mile 7 – 10:51
Mile 8 – 11:23 – slowly start to die
Mile 9 – 11:37
Mile 10 – 11:36
Mile 11 – 11:40 – see finishers turning back down the race course for more
Mile 12 – 11:50 – look for sharp objects to poke them with
Mile 13 – 11:14
Time: 2:25:16
I thought my neck was going to be an issue but it turned out not to be so bad once I got past mile 5. Blisters though, a different story. (Michael is yelling at me for being a drama queen right now) Should I pop it and let the blister ooze or leave it?
I wasn't expecting a PR – so that's good. I'm not ecstatic with my time – I'm just okay with it. Not really, we'll pretend. I know I have a lot of work to do I just need to get my butt motivated. Perspective is so weird – it's hard to belive people run marathons faster than I can run a half-marathon – granted they are so thin the wind just blows them along – but still.
Stop by and congratulation Massoman on his PR.
Okay now – I'm off to my pinot.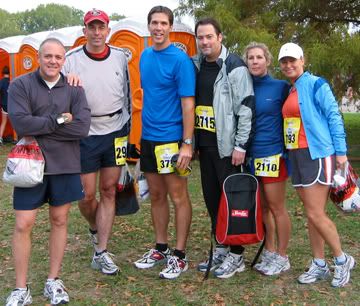 More pictures here. Sorry they are all in front of the potties.