I'll repair this mess later, but here ya go with typos and made up words:
Our Saturday RBF lunch meet-up didn't happen, but we were able to meet up in the warm American Airlines Center before the race. Karrie, Richard and I were all running the half marathon. We hung out for a while before the rest of the group arrived. We snapped a few pictures and listened to the nervous chatter of the people around us.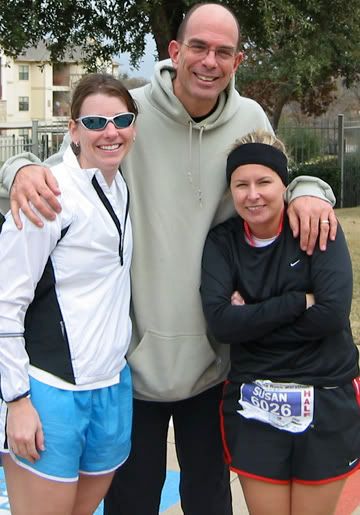 I held out my fancy smancy RBF sign in hopes that everyone could find us. Edwin from A Town Runner arrived first and soon after his friend Tom. Rich from Just 12 Finish arrived a few minutes later. They were all running the full marathon. We also saw our friend Cathy, who was running her 56th marathon; she was recently profiled on CRN, read about her here. We should all definitely plan to meet up for more races around Dallas, especially since Rich lives about 20 minutes from us.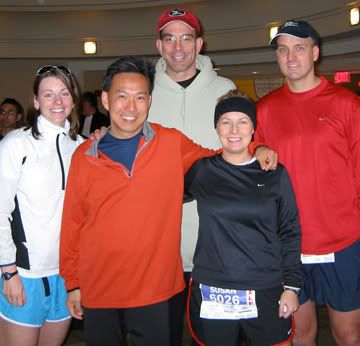 My muscles were tight for the first four miles – taking nearly an hour to complete, but once I warmed up I was on a roll for the next nine miles. Mile 12 was especially fun, I turned a corner for the finish and a blast of cheers came from the crowd. Wow, I thought, we have great spectators this year. I straightened up and I smiled and waved at everyone. Then in a ferocious fury the 3:30 pace group whipped passed me and set me spinning. Oh well, I'll pretend they were cheering for me. If I had known the pace group was right behind me I wouldn't have been running down the middle of the road.
Considering the longest distance I covered in over a month was five miles, I had a great run. I ran when I wanted, I walked when I wanted , I high-fived every kid, person, or animal with an outstretched hand on the course and I chatted with every runner who I didn't seem to annoy.
I finished in 2:25:15. It was not my best time, but my new most funnest half-marathon. I felt great the entire race, not feeling fatigue in my legs until the last mile.
Just in case you are interested, here is a prescription for having the most fun half- marathon ever:
Power-lift the Friday before the race, especially the leg press.
Friday night, have date-night with husband, drink lots of wine, Irish coffee and way eat too much rare seared tuna. Have a gut ache all night, get no sleep and wake up feeling groggy on Saturday morning.
Go to a party Saturday night, wear high heels, drink margaritas, and stay up as late as possible. Four hours of sleep is all you need.
Leave your Donkey outside the night before so he'll bark wake you up at 1:30AM wanting in the house.
Run with a head cold, lots of sinus drainage and over-active saliva glands. Take lots of decongestants the morning of the race to ensure extra dehydration. (This saliva gland thing is new for me, but I've enjoyed the reaction of people when I squirt them while we talk.)
Eat chocolate pop-tarts and drink 2 cups of coffee for breakfast the morning of the race.
And most importantly, meet-up with other awesome running bloggers the morning of the race.
You can view the slide show here.
Oh, and my twin on the east coast, with a sexy new haircut, PRd her half marathon this weekend – check out her race report. Go Susie.