In January of 2006 Michael came home from a long ride and spontaneously announced, "I know where we're going live". Which was odd because I'm usually the spontaneous one. But there he was, pulling a Susan. And I'm positive his decision had nothing to do with the house being located right smack in the middle of his cycling route. But he was right and it was so perfect, and in a few days we were the owners of two and half acres of beautifully wooded property in the middle of nowhere.
What a long building process it's been, an emotional range of shock, fun, exhaustion, and excitement – with a little stress thrown in for good measure. And since the beginning, and from here on out, our home has been affectionately referred to as The Knollie Witch Project.*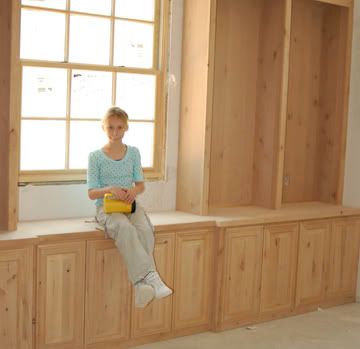 Now finally, more than a year later, we've gone from dirt to house and we're in the homestretch. Down to the nitty gritty, pretty pretty fun stuff – like the color selection of tiles, granite and walls. And just when you think it can't get any better, a ray of light opens in the sky and your front door is gently lowered into place. The front door we took weeks to design, and by we I mean me, me and all my twirly, swirly, flowy glorious doorly me-ness. And it's so beautiful it makes you want to rip off the plastic and slather it with tongue juice until the cows come home.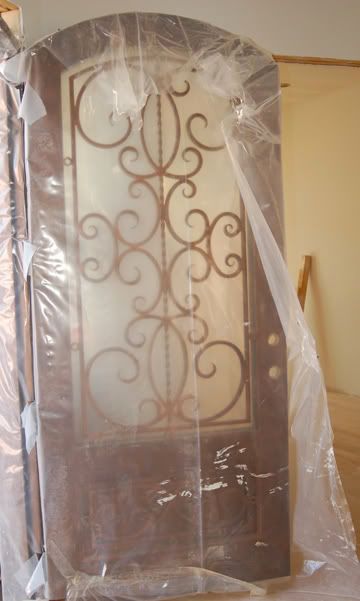 So if I've been a little more scatterbrained than usual and it seems as if my comment gene has all but disappeared, bear with me. I'll be back to normal soon, or as normal as a Runner Susan can be.
Oh, about that one small problem. In my current house I am fortunate enough to be only about five minutes away from numerous shopping malls. When I move I'll be very far away – the nearest mall will be about eighteen minutes away. Which is a definitely a problem if you need that emergency pair of platform pumps or black gaucho capris.**
Of course, that might have been dear Michael's plan from the very beginning.
*Forever grateful for the naming – thanks to the toast-hating, movie-making, former Texan/Hoosier, and current Aussie, Katy.
**Much thanks to Kate, the girl with the secret blog, for her mapping mallness artistic talent.