It all started with Mom, we only have her to blame. It was tough fellow bloggers. But, E-Speed Elizabeth, Denise of Firefly's Running and Ali of Just One More Mile are just too cute to win. Seriously, these people shouldn't look so good when they wake up in the morning. Are you taking pretty pills? Go get ugly and call me in the morning!
Mark and Katy . . . didn't you guys read the fine print that stated Australians have to jump on one foot while having toast stuffed in your mouth to participate. Geez, get with the program kiddos. But thanks for being the only male participant Mark. You really look horrible in the morning for not having much hair, that takes talent. And, is Katy really conscious in that picture? I think she might be drugged.
Now we get to the final two contestants: Jeanne of Not Born to Run and Juls of Keeping Pace. Both screamed "Look at Me, I Am Morning". It was a tough decision, so I'm glad my sister Amy had to make the final call, because I would have given everyone a free masthead.
The Rise & Shine runner-up is Jeanne, not only did she post two lovely morning photos on her site, she linked about fifty morning photos to her flickr account. That takes guts people. Real guts.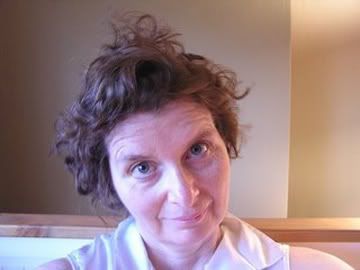 Way to go Jeanne. And for being second worst morning photo, you get to pick any banner for the Masthead Factory gallery. Once you pick the one you like, shoot me an email and I'll get it ready for you. I'm also volunteering my sister to install it, because I'm nice that way.
And the winner of the Rise & Shine Worst Morning Photo is Juls from Keeping Pace.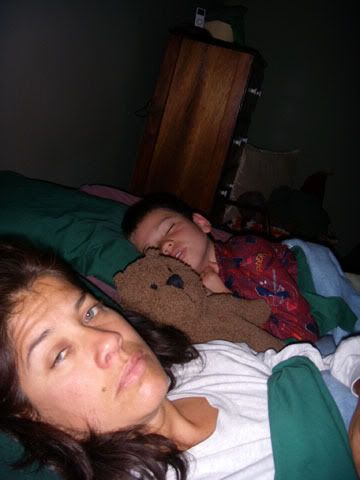 Seriously, this is the most honest morning picture we received. It reeked of morning grogginess and fuzzy teeth. Of course, that cutie pie little boy next to her didn't have any influence on the judge, I promise.
Congratulations Juls, you win a free custom designed banner from the Masthead Factory. And we'll install it for you, because we give good masthead. Send me an email and we'll get started on your banner.
Thanks to everyone for participating!