So not training really is the new training! Who knew, and I've wasted all those years training. Just kidding. I didn't break any speed records, but for only running a few miles in April I finished the mini last weekend with no problem at all – except for the giant blister on my foot. And you know I took a picture of it – the same familiar blister I get anytime my feet are wet or sweaty.
Packet pick-up was a little scary because race numbers went from zero to 54,000. That's a lot of people. I think only 35,000 ran the mini and the others the 5k. I picked up a few items including some margarita flavored Clif Bloks in the spirit of Cinco de Mayo.
This mini was huge. I was really surprised how much it had grown since I ran it in 1993. (Yes, I'm old) It was a fun race and it was good to have family and friends around. My sister dropped off Marta (who I ran with in San Diego), John and I around 6:15 AM and we wandered around until the start. It was cloudy and 55 degrees – perfect for running. I was in corral G and they were in A & B or whatever the super-fast corrals were. I was, however, secretly thankful I wasn't in corral Z.
In the starting corrals, the officials threw in a few giant black and white beach balls for the crowd to toss around before the start. It was fun until the runners started playing competitive volleyball and I was getting pelted along the side of my face. The music in the corrals at the beginning was nice, but I missed the theme music to the movie Rocky they played years before.
I was pretty tight the first few miles; I could feel the 16-hour drive from Texas to Indiana lingering in my lower back. At mile three it was nice to see Leah and Jason, cheering fools they are. I so like those two kids. Their cheering got me through to mile 7 where we entered the Speedway. I had forgotten how hard the surface was and how hot it could be now that the sun was out. I was glad that it was only a 2.5-mile loop. It wasn't long after I exited the Speedway that I saw those cheering fools Jason and Leah again around mile 10.
I trucked along until the finish, missing my mom and sister at mile 12.75 but I met up with them and Marta and Milka in the reunion area at letter M. I waited around for the other RBFers but never saw anyone. When we arrived home I noticed that Leah had called but I reckon I didn't hear my phone ring over the crowd.
I finished in 2:34. Far from my PR of 2:04, but for not training I was happy. I finished and never really felt winded or overly tired. A half-marathon is a forgiving distance. I'd like to think I have a great base and that is why I can run a half without training, but I'm not so sure.
After the race we all cleaned up and went to my Dad's favorite Mexican Restaurant, and in the spirit of Cinco de Mayo we drank margaritas.
But the best part of the entire trip was when my sister Amy, while in a delusional and somewhat comatose state, put her name into the New York Marathon lottery. And, in front of witnesses, Amy said if she got in the marathon, she would run it. And you know what that makes Amy? Not just my sister, but Sister Runner Amy! Hee, I couldn't be happier. Pop over and congratulate her on her 1st marathon entry!
The drive home was uneventful except for the torrential downpour from 8 hours of thunderstorms through three states. And as an unexpected surprise – Michael connived with Mother Nature to build Donkey a water park in the back yard. This could go into an entirely new post entitled "My House Hates Me, Part 9", but I'll spare you the details.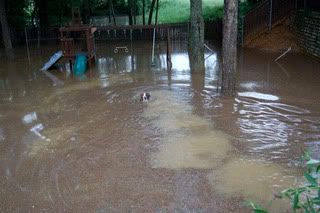 Okay, maybe a little too long – but forgive the typos and spelling errors and move on to the race pictures here.